Synopsis: After the war in Iraq, Tommy Donahue (Chris Kerson) goes back to his wife, Faith (Judy Jerome), whom he left behind when she was still pregnant to escape a life of crime. DD Davis (Will Balgrove), on the other hand, returns to find that his brothers Darnell (Nakia Dillard) and James (Daveed Ramsay) have become the neighborhood's leaders of a prestigious gang. The two, Tommy and DD, find themselves hooked in the same ghetto that made them join the military to escape.
Description: This is a tale of two Iraq war veterans who return to their slum neighborhood in North Philadelphia; only to find out that their own families are stuck in a web of crime, violence, and corruption.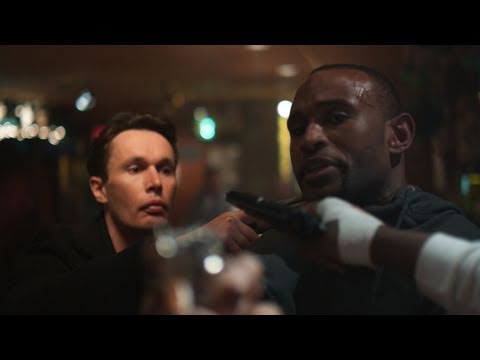 Review: For someone who just graduated from film school and already won the "Big Break Movie Contest" sponsored by Rogue and AMC Theatres, Sean Kirkpatrick, director and writer of Cost of a Soul has done a fine job in creating a gritty inner-city environment and a group of realistic street characters caught up in an endless cycle of crime and violence.
The movie comes right at you with the roughness of the two wounded veterans who return home in the same Philly slum and the artistic flashback that comes from the prologue set in Iraq. Shot in black and white only for the Philadelphia-set story to unfold in shades of drab color giving the film a noir look. The plot and the characters in it is an honest portrayal of what it's like to be in one of United States' notorious towns.
With the brilliance of the plot also comes its lapses; for one, some of the camera shots were too close. The constant panning around the room, complete with all the movement in almost the entire span of the movie causes one to be dizzy. Also, violence in the movie escalates to a cartoonish level as corpses are seen in nearly every scene during the final third which is a surreal depiction of what's going on in the setting. This film may be just a small step for an indie filmmaker; but to given the chance to be showcased in 50 different US theatres, it sure is a giant leap for the film industry.