Synopsis: Walt Kowalski (Clint Eastwood), a resolute widow veteran who finds it hard to get along with people, scorns Hmong immigrants from Southeast Asia who replaced his Michigan neighborhood. Beleaguered from Hmong gang-bangers, Thao (Bee Vang), one of his new teenaged neighbors, tries to steal his prized '72 Gran Torino. However, Walt sets a motion of an improbable friendship after Thao's family insisted that Thao labors for Walt as a means to make atonement.
Description: An implausible comradeship forms between a prejudiced Korean War veteran Walt Kowalski and a young Hmong teenager who tried to steal the old man's valued possession.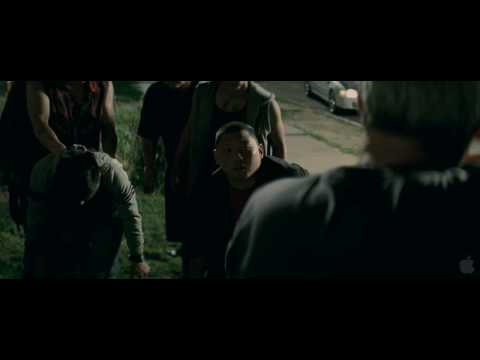 Review: Clint Eastwood had been and still is a favorite for most keenly devoted fans of all-time quality movies, but playing a disillusioned Korean War veteran can be somewhat bemusing especially if added with an air of racism blown quite mildly through a one-dimensional plot. This doesn't imply skepticism for the following discussion but rather hints some possible flaws that rendered the patchiness of the entire film.
Putting up with a rough neighborhood wouldn't require that much of an effort for a war veteran had it not been due to some plausible additives. The politically incorrect hero unfortunately has it in mind that his beloved family actually just awaits his demise in return for some presumed fortune (if indeed there are any aside from the '72 Ford Gran Torino). Adding insult to the injury is the apparent connection he is going to have with an Asian family who struggles with the cliché predicament between their son and a gang. How's that for a slap in both sides of the face? (At least in his perspective)
Though can be considered a turning point of the subsequent events, and that a tentative father-son relationship is starting to ensue between Thao (Bee Vang) and Walt (Eastwood), Sue (Thao's brighter and more Westernized sister) unassumingly acts as the channel towards a better relationship that was brought to fruition despite Walt's plain despicability.
Credence is due for the good cinematography and effects authenticity. But the movie slumps in the hub and feels very artificial, most characters as mentioned is one dimensional at par with average acting. Had it not been the now 78 year-old Eastwood, this could have totally gone flop.