Ice Age 3: Dawn of the Dinosaurs
Synopsis: Sid's attempt to adopt a few dinosaur babies goes terribly wrong, leaving Diego and Manny to rescue him from a secret and dangerous dinosaur underworld. As if they didn't have enough problems of their own…
Description: Sid, Manny, Diego and Ellie return in the third instalment of the Ice Age series, a prehistoric tale of family and friendship.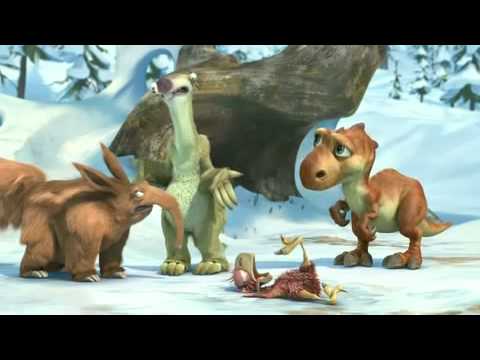 Review: A fantastic return to form for the makers of the Ice Age series, Dawn of the Dinosaurs is actually the best of the three movies released so far. It returns to the high class and innovative originality of the first picture, whilst piling on the fun and character humour that is what makes these movies so great.
Visually the movie is fantastic, whether seen in 3D at its original cinematic release or in High Def on the Blu-Ray version it is a real visual treat, particularly considering it's a kid's film.
But the makers of the Ice Age movies know that they are most definitely making more than just a "kid's film", and this third installment really shows that, despite being little more than a series of high risk and rather ridiculous chase scenes Dawn of the Dinosaurs makes a host of adult quips and witticisms that will go straight over the head of an audience under 12; and what is most impressive is how well it balances the two.
Even adults are likely to enjoy the daft-ness of Dawn of the Dinosaurs but its ability to offer grown up audiences more than that is spectacular, the movie returns to the straight forward simplicity of the first movie, yet manages to push the boundaries just far enough to make the story surprisingly different, albeit completely absurd.
Surely the absurdity of the story should be the last thing on your mind when watching a film with talking extinct animals in it, but a fair few adults have made quite a fuss about the overlap between the dino's and our other beloved prehistoric characters. Personally I really couldn't care less – that is hardly the most illogical part of the film; I reserve that part for why a sloth would decide, of all the creatures available for adoption, to choose a bloody dinosaur. Beyond that however, it doesn't matter, this is not a film to be taken seriously, this is a film that promises an hour and a half of over the top, adrenaline charged, emotionally draining comical fantasy and it gives you every single bit of that, do not expect this to be a masterpiece of the intellectual calibre, expect a truly impressive family animation that will go down in movie history as a modern classic.
Ice Age 3: Dawn of the Dinosaurs

,