Synopsis: Nelson Mandela, a former anti-apartheid activist has just been released from prison. He becomes president of South Africa after his ANC triumphs the election with the vision of uniting two races in conflict for several years. Mandela uses South Africa's national rugby team with the help of team captain François Pienaar to spark a sense of unity on the nation's people. Nelson Mandela must struggle to achieve his ultimate goal amidst all the difficulties of a failing health and pressures from both racial colors.
Description: The film tells of a South African black president, Nelson Mandela who unites the nation through the sport of Rugby. Mandela solicits the help of François Pienaar, the captain of the Springboks rugby team to achieve his goal of eliminating racial tensions.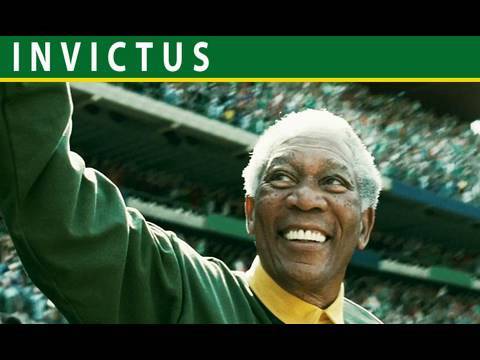 Review: The heated battle of different colored races continues until these times. No other conflict has become more significant than the one fought by the whites and blacks for over a millennia. The argument of racial dominance has also successfully transcended in the movie industry. There were a number of films that depicted this conflict in the past as well as in our present times. Invictusis one excellent example of this rare film type that has made a mark in the minds of the viewers. Basing the motion picture from real events made it more appealing to intellectually capable spectators as well as the die-hard rugby fans.
The legendary figure of Nelson Mandela that has graced a dozen international magazines and political pictures provided a point of focus for any audience. Morgan Freeman depicted this character as if he was truly the former South African president. He was able to effectively mimic Mandela's soft body movements and deep hoarse voice. Despite François Pienaar being only known to the Rugby world, his character was immortalized by this picture. Damon provided the perfect actor to play Pienaar's character as he was versatile enough to depict the unique fluctuations in the team captain's personality throughout the film.
The action sequences deserved a huge applause as it was simply heart racing. The sequences were well timed and it added a sense of drama to a conversation dominated film. Invictusallows the audience to feel a sense of nationalism and would surely go well with a multi-racial dominated territory.