Synopsis: A billionaire scientist and engineer is attacked and kidnapped by Middle Eastern terrorists who force him to build them weapons; he on the other hand escapes by building a super powered all body suit, which he goes on to use to fight crime.
Description: Billionaire Tony Stark (Robert Downey Jr.) is injured whilst demonstrating the newest release from his weapons manufacturing company, the injury means that he must constantly wear a radioactive disk in his chest to prevent shrapnel from entering his heart. Stark utilizes the potential power of this assistive technology to power a defensive suit with built in weaponry and the ability to fly. However his greedy and corrupt colleague attempts to build his own suit and use it to cash in on the world's conflicts.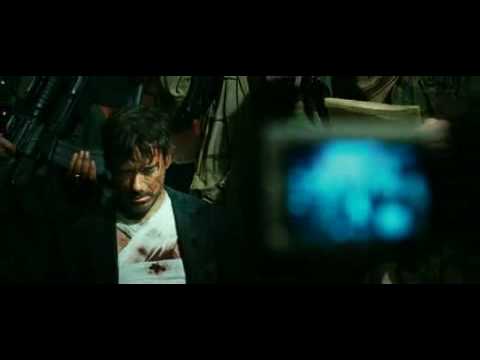 Review: In the first of what have become two Iron Man movies and a large aspect of the current Avengers franchise Robert Downey Jr puts in a brilliant, sarcastic and humorous performance as Tony Stark, a rich weapons manufacturer who has a change of heart. Along side him Gwyneth Paltrow, Jeff Bridges and Terrence Howard star as Stark's PA and love interest Pepper Pots, the evil Stark Industries executive Obadiah Stane and the military liaison James Rhodes respectively.
 The performances in Iron Man are its best aspect, though there is little throughout the film that is a disappointment; but the casting for the piece is perfect, particularly that of Downey Jr who makes this philandering and aloof genius loads of fun and completely loveable. The script is a big help here, as his sarcastic one liner are quite often actually laugh-out-loud funny, yet without his performance this movie would have a gaping wound in the centre of its chest.
Beyond this the movie is a simple action film, filled with some fantastic comic-book moments and great CGI; it ticks all the boxes by including huge explosions, brutal battles and plenty of fire power.
Far from intellectually challenging this movie is just a thoroughly good thrill, family friendly and easy on the eyes for both the male and female audience members!