Journey 2: The Mysterious Island
Synopsis: Sean Anderson teams up with his mother's boyfriend to go in search of his estranged Grandfather who is trapped on a mythical island.
Description: The sequel to Journey to the Center of the Earth that sees the return of Josh Hutcherson as Sean Anderson with new co-stars Dwayne Johnson and Michael Caine.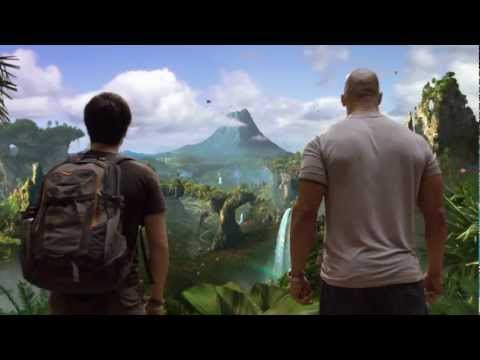 Review: Wrestler turned actor The Rock shows up here as a surrogate father figure to the only reappearing cast member from the original Journey to the Center of the Earth, young Sean Anderson, taking him on a bonding-adventure holiday to a mysterious island that can do little more than undermine the previous mind-boggling father son adventure between Hutcherson and his 'real' father, Brendon Fraser. Wrapped up in this slightly bizarre if not genuinely traumatic experience of a disintegrating family, is a mixture of classic fantasy stories based, rather loosely, on a combination of "Treasure Island", "20,000 Leagues under the Sea" and another Jules Verne novel "The Mysterious Island".
Although much of the film is an almost illegible mix of running/chase sequences and The Rock showing off his vast and unexpected knowledge of complex maths, physics, engineering, biology, ecology and a few other things you imagine Dwayne struggles to pronounce in reality; the discernible aspects of the plot include a beautiful yet mythical landscape of an island doomed to sink, inhabited by strange and rare creatures; most of whom seem to be the total opposite of their real counterparts when it comes to size. It appears, due to some freak evolutionary trait, that elephants are no longer the huge African creatures we have come to expect but rather a species so tiny they can fit in the palm of your hand, whilst centipedes and lizards are as huge and ferocious as dinosaurs.
As you can imagine all of this is both shocking and exciting for Anderson, for all of five minutes, then the running starts up again and the myths and the monsters are almost entirely forgotten as he and his now best-friend-come-step-father race to get off the island before it disappears into the sea.
It's not just the story of Journey 2 that reeks of a Hollywood money grabbing attempt but also the rather lame post-production 3D they've stuck on top to make an extra buck or two. As far as kid's movies go this year this one isn't worth the ticket price.