Synopsis: A group of gangsters plan a robbery but are foiled when the police turn up; which one of them has double crossed them?
Description: Quentin Tarantino's first feature length movie that won him recognition at the Sundance Film Festival and kicked his career into the mainstream.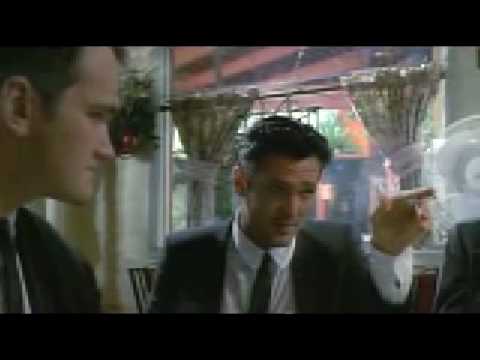 Review: A surprisingly violent and intense movie Reservoir Dogs might come as a bit of a shock to some Tarantino fans. Although it is full of great performances and hugely memorable and even now iconic scenes it lacks the undercurrent of humour that normally softens the grit of Tarantino's movies.
The film tells the story of a group of gangsters, briefly including Tarantino himself, who are brought together by a single benefactor to pull off a diamond heist. The men, all given "colourful" nicknames, including Mr Blue, Mr Blonde and Mr Pink, find themselves hold up in their safe house however after the heist has gone terribly wrong and they are interrupted by the police; several men die and a policeman is taken hostage. What follows is a tense and violent tangle of events as the robbers attempt to decipher which of them has been in league with the police.
What is most interesting about this movie is the strangely intimate relationship that develops between the gangsters, despite their mutual mistrust of one another they can not help, within such a volatile situation, seek comfort in each other. That is all save the criminally insane Mr Blonde who, in an infamous scene, mutilates a police hostage for the sheer joy of it.
Reservoir Dogs is certainly an entertaining film, which demonstrates the strength of Tarantino's writing and directorial abilities. It is not the easiest of his films to watch, as it can seem overly intense at times, it is undeniably however a staple of the modern cinema diet and I would recommend everyone watch it at least once in their lives.