Rise of the Planet of the Apes
Synopsis: Will Rodman (played by James Franco) conducts various experiments in his numerous attempts to cure the Alzheimer's disease by healing the brain cells and tests on chimpanzees for that purpose. However, it brought about the development of intelligence in an ape called Caesar. Will takes Caesar home to raise him, look after him and nurture him in order to study the development of his enhanced brain cells. As Caesar grows, his mental capacity augments and he becomes more violent as well which forces Will to send Caesar to the ape compound. At the compound Caesar feels unsettled because of the primitive apes dwelling with him. Using his intelligence, Caesar spreads the serum to other apes in the compound to become their leader and lead the revolt that will culminate in the rise of the planet of the apes.
Description: During the course of conducting experiments in order to find the cure to Alzheimer's disease, Will finds a positive enhancement of brain cells in an ape called Caesar which due to certain circumstances uses its profound and newly found intelligence to lead other apes to freedom.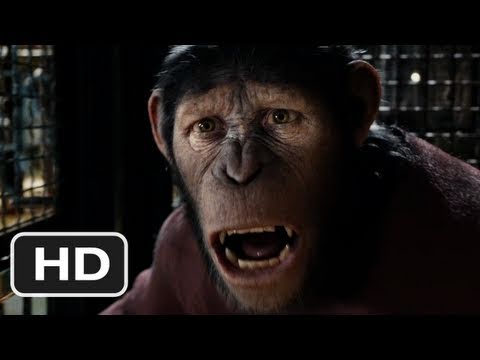 Review: Rise of the Planet of the Apes is in my personal opinion the summer movie of 2011. The prequel to the movie, Planet of the Apes, it is by far one of the most compelling and thought-provoking origination movies that will leave the audience spellbound in the way it is executed. Caesar can easily be pointed out as the protagonist that stole the show with its brilliant acting that is so nuanced and powerful in capturing the emotions of an ape that has supernormal intellectual capabilities.
One of the most spectacular features of this movie is its digitized graphics and effects which not only enhance the whole outlook of the movie but simultaneously, give the audience an unforgettable experience as it deeper delves into the mind of a quick-witted ape. The engineering of the scenes where the apes make fruitful attempts to overthrow the established order, trying to sweep the city with their planned violence is amazing in every sense of the word.
I say Caesar be nominated for the Oscar for the best actor.
Rise of the Planet of the Apes

,