Synopsis: A disgusting ogre is sent on a quest to rescue a beautiful Princess at the behest of an evil Prince. Yet the Princess has a dark secret that might make the Prince think twice about marrying her.
Description: Mike Myers stars as Shrek the ogre sent on a Knight's quest with an over-enthusiastic Donkey in place of a valiant steed.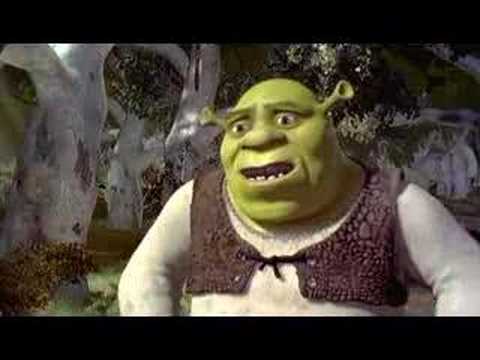 Review: The first in the Shrek franchise sees the introduction of a wide range of strange and fantastically familiar creatures, all characters from stories we know well: including the three blind mice and Pinocchio. Yet this is not your average fairytale, instead DreamWorks Pictures presents us with a fairytale turned on its head, but without the darkness and brooding of recent and pending re-vamps like Jack the Giant Killer. Instead Shrek is a 90 minute family romp full of toilet humour, ridiculous one liners and unexpected yet highly comical twists.
The film lacks the grace of the animations of it's competitors Disney, but in many ways it makes no attempt to emulate them either, Shrek is appealing to a rather different audience than the Disney movies, going for the older and more knowing child audiences that exist in stark contrast to those of the previous years of Disney's classic success. Shrek is a film for little boys to watch with their dads, it is utterly straightforward, laugh out loud humour based entirely on turning many of the expected tropes of the genre on their heads.
It all means quite a lot of fun can be had by everyone really: teenagers will enjoy the double entendre's and highly quotable lines by the fantastically cast Eddie Murphy as "Donkey" the talking donkey, whilst younger kids are going to revel in the fart jokes. Even adults will find a healthy dose of pleasure and comedy in the slightly twisted representations of beloved fairytale characters.
Although the movie lacks the Disney magic it counters that with a strong personality of its own that has really made this first Shrek film stand out even ten years after its initial release.
Shrek

,