Synopsis: Heading the group "Expendables" composed of a blades specialist, a martial artist, a weapons specialist, a sniper, and a demolitions expert, Barney Ross (Sylvester Stallone) accepts an offer from a mysterious man called Mr. Church (Bruce Willis) in overthrowing a merciless dictator in a fictional island of Vilena in the Gulf of Mexico. After an initial reconnaissance and a help from a local rebel Sandra (Gisele Itié), Ross finds out that all the operations in the island is backed up by en ex-CIA agent James Munroe (Eric Roberts) making the mission complicated and impossible. With ensuing affection at bay, Ross decided to pursue the mission with his teammates on one side and treachery on the other.

Description: A band of highly skilled mercenaries dubbed as the "Expendables" lead by Barney Ross are commissioned to overthrow a ruthless dictator in a small island of Vilena finding it a suicidal mission.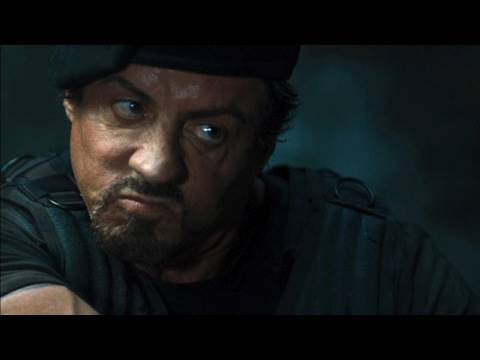 Review: With the line-up of actors the movie has, it is surely destined to be one of the best action hero films in cinematic history. It's an excellent job for Sylvester Stallone for pulling this off as the movie industry needs exactly the kind of entertainment. This is the type of film where the audiences are kept on their toes and anxious without the movie even starting yet and keeping the expectations high is not disappointing.
Talking of gore factor, this movie has plenty to share. The movie is generous enough in terms of showing wicked action fun and blood splashes which takes killing to exact realism. Body count is high as it is typical from Rambo's (Sylvester Stallone) work. There are a number of eye-candy explosions in this movie enough for viewers to be glued to their seats. It's perfect for digital surround for each blast is just like Mozart to the ears. Hand-to-hand combat is fast paced and gorgeously made. The fight scenarios just keep on coming making the audience yearn for more. For a full blown action film fan, this is just the right movie.
There are quite a few flaws in this movie though. There is not enough subtlety with blood splashes and structure crashes which can be easily notice from the prying eyes of digital effects junkie. The plot is also a bit of old-school since it's a typical 80's movie. Nevertheless, the movie is just excellently made making its flaws passable.