Synopsis: An aging mob leader transfers his criminal empire to his son, who is rather reluctant to take the job.
Description: After returning home from the war Michael Corleone finds himself in charge of a New York Mafia family, whose traditional values are being threatened by the insurgence of new and less respecting criminals.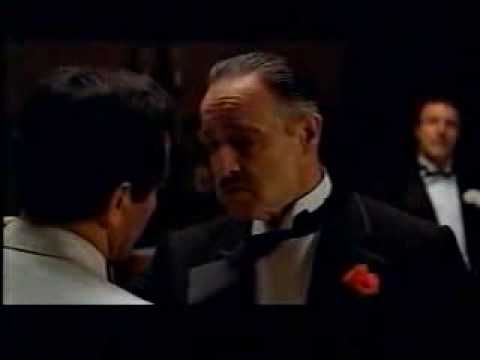 Review: Largely regarded as one of the best movies of all time The Godfather is the iconic Francis Ford Coppola crime drama that sparked a number of sequels and won three Oscars.
There is very little about this film to criticize, the performances are brilliant, Al Pacino (as Mike Corleone) and Marlon Brando (as an aging Don Vito Corleone) both portraying equally intense and complex characters with such ease and courage that you can not help but be drawn into the movie. Such high calibre performances are vital in making The Godfather a sustainable movie, its length, which stands at two hours fifteen, covers ten years of Michael Corleone's life, in which such a great deal happens that you could easily loose interest if it weren't for the strength of both the characters and the men portraying them.
The violence in this movie is still surprising, it is expertly shot, allowing each death and each bullet its own tense and captivating moment of action, which somehow seem endless yet are in fact over with a cutting speed.
Even the movie's score seems effortlessly perfect, complimenting the tensest scenes with music so emotive you may find yourself almost unaware of its presence. Tie this with expert camera work and an almost flawless storyline and it leads The Godfather to still stand as almost unrivalled, even now forty years after it's original release.
Although hugely impressive The Godfather is not for everyone, to watch it requires patience and a willingness to become involved with characters you may not like at first. Allowing yourself to become involved in this movie, which in itself is not difficult for anyone who finds themselves sitting down in front of it, is a massively rewarding experience as you will be treated to 175 minutes of some of the best film making ever seen.
The Godfather

,